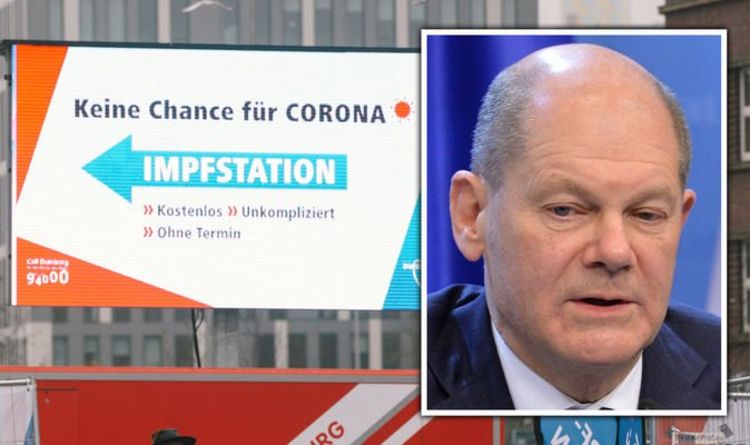 In a bid to tackle rising Covid cases caused by the spread of the Omicron variant, Germany has begun a push to roll out booster vaccines to the population. Health Minister Karl Lauterbach has warned however that German faces a serious shortage of booster jabs in the first quarter of 2022.
Mr Lauterbach told broadcasters Germany was running low on doses of Pfizer and BioNTech Covid vaccines.
Speaking to channel ZDF, the minister noted the European Union's health policy spokesman, Tino Sorge, said in an internal paper there would be more than ten million doses of BioNTech and 40 million doses of Moderna would be available.
Mr Lauterbach then said: "I wish the numbers presented by the Union were correct.
"In the next week we can deliver 1.2 million doses of BioNTech for all of Germany, the following week 800,000 doses and then another 1.2 million doses.
"More is simply not there. We are already using reserves, we are emptying everything."
In an interview with Markus Lanz on ZDF's 'Annual Review', Mr Lauterbach shared he is trying to buy back vaccines Germany delivered to other countries.
He told the broadcaster: "I am now trying as an emergency to buy back vaccines from Eastern European countries.
"I am simply doing everything I can for the vaccination campaign that we are currently running, which is really good, to be able to carry on without interruptions."
Under new Chancellor Olaf Scholz, Germany's federal government wants to buy more than 90 million doses of BioNTech vaccine for €2.2billion.
READ MORE: EU civil war looms – Macron and Scholz take aim at Italy
It comes after the health minister, who took up the post from Jens Spahn in December, told regional leaders vaccines will run out in January.
According to leaked reports, Mr Lauterbach said in a video conference: "The situation is extremely difficult.
"We face a serious shortage of vaccines in the coming year.
"Far too little vaccine was ordered for the first quarter. The quantities are not enough to run the booster campaign."
Reports also held Mr Spahn let an option to order more BioNTech vaccines slip by in early autumn.
DON'T MISS
On Thursday, Mr Lauterbach said Germany was pursuing a "very offensive" and fast booster strategy, and has scrambled to get more jabs.
The Health Ministry on Saturday December 11 shared the European Union approved Germany's request to get the delivery of 35 million doses from Moderna moved forward.
It comes as the country brought in restrictions requiring people to show proof of vaccination and recovery to enter nonessential shops.
Lothar Wieler, head of the Robert Koch Institute, Germany's disease control centre, said "a few hundred cases" of Omicron have been registered so far, and it has been found in all 16 German states.
He warned Germans need to make sure the Christmas period doesn't provide a "kick-start for Omicron," recommending that they spend the time with close family and reduce their contacts.
Mr Wieler's institute said that Germany has seen 340.1 new coronavirus infections per 100,000 residents over the past seven days, down from 422.3 a week earlier.
Additional reporting from Monika Pallenberg