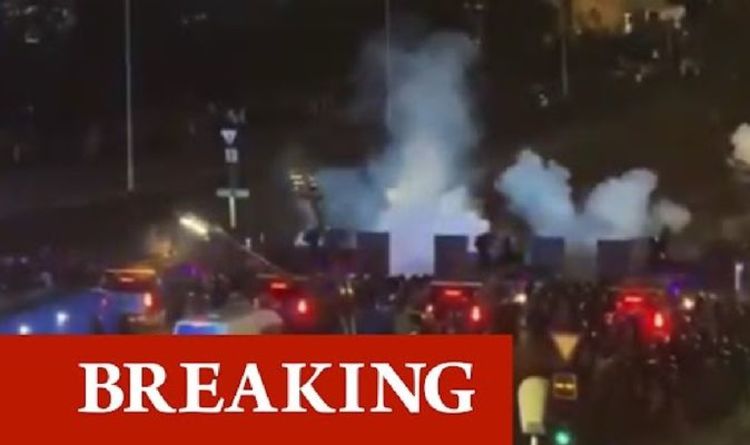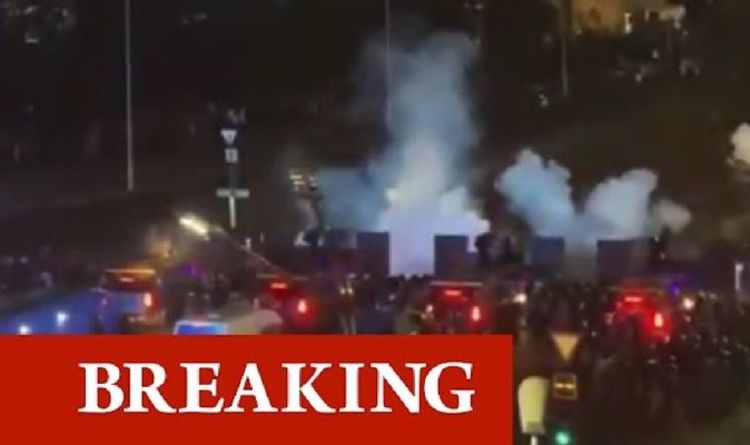 In a rare uprising against the Government, thousands of enraged citizens marched on the capital Almaty to protest the removal of a price cap on energy prices which sent the price of fuel soaring twofold in days. But the crowds were shortly pelted with smoke and flashbang grenades by hundreds of security personnel who appear to be lying in wait for the crowd.
Lines upon lines of police and security vehicles appear to protect a Government building and stand their ground against the swelling crowd.
Smoke grenades and flashbangs can be seen being hurled at protesters by police as a crowd of thousands can be heard screaming.
Riot police can also be seen armed with riot shields as they await the violence to spiral further.
In footage shared by the RT news channel, barriers and heavy armoured vehicles block the road to prevent the crowd pushing towards Government buildings.
Protesters can be seen filing through the streets demanding the Government resign.
The chaos forced President Kassym-Jomart Tokayev to give an emergency address the nation where he demanded the citizens to back down.
He said: "I appeal to the demonstrators not to follow the calls of destructive persons interested in undermining the stability and unity of our society."
Protests erupted across the country on Tuesday after the Government lifted subsidies on petrol on New Year's eve, sending fuel prices soaring twofold in a matter of days.
More to follow.