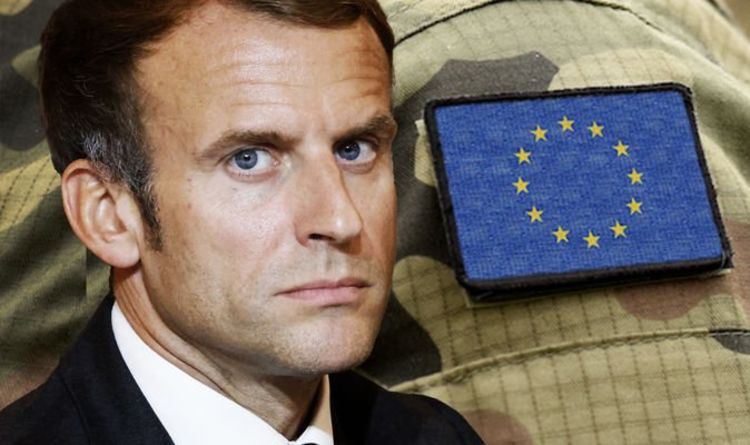 A closer union of the military capability of member states is at the top of the agenda for Emmanuel Macron as France takes over the presidency of the European Council. A long-time advocate for a collective armed forces arrangement in the bloc, Mr Macron has called on a string of summits to get the wheels in motion to build on his masterplan of an EU army as he wields the "tools to set the agenda".
Speaking to DW News on Thursday, Jacob Ross of the German Council of Foreign Relations said the French President made it clear at a speech in December discussions for a raft of summits to shape the direction of the European Union will take place in the first three months of 2022.
He said the first of these will include a summit on the European Union's relationship with Africa which is due to take place in February.
But he added how "a summit on European defence in March" is due, in which Mr Ross suggested President Macron will begin to set in motion his plans for closer military ties across the bloc.
Mr Ross added how President Macron and France now "have the tools to set the agenda to bring their priorities to the European stage" with the presidency of the European Council.
JUST IN 'Minimum wage in UK well above ours!' Macron urged to leave EU by French
He noted how another summit on the "future European economic mode" will also take place in March as President Macron wields the power of his six-month presidency of the European Council.
In October, James Shields, Professor of French politics at the University of Warwick, told Express.co.uk Mr Macron's demands for an EU army are proof the French President believes France "can't go it alone" on the world stage without the support of others.
He explained how the "tectonic plates" of geo-strategic and geopolitical affairs have moved in such a way in recent years that even France, who are very "wedded to the idea of independence on the international stage", have been forced to consider other defence options.
The French politics expert stressed that Mr Macron's demands for an EU army stem from this unease of France's role on the world stage.
READ MORE Emmanuel Macron's demands for EU army are proof France 'can't go it alone' – expert
He also noted the push from President Macron stems from France, over the decades, being an "uncomfortable member of NATO".
According to Professor Shields, the question for President Macron was now "finding the partnership that works for France" on a military front.
Despite this, he stressed President Macron is "a thousand miles from achieving an EU defence and security capability" despite a strong desire for a formation.
The idea of the formation of an EU army was floated following the deadly withdrawal from Afghanistan.
DON'T MISS
French election in chaos as fury erupts at burden of euro [INSIGHT]
Poland slams gates to Europe SHUT [REACTION]
Brexit LIVE: Truss holds talks with Coveney TODAY [LIVE BLOG]

Speaking to reporters in September following a meeting of foreign and defence ministers in Slovenia, EU foreign affairs representative Josep Borrell said "the need for more European defence has never been as evident as today after the events in Afghanistan".
He added how there was a need to create a "rapid response force" of 5,000 soldiers to be able to be deployed quickly.
The sentiment was also echoed by European Union Commission President Ursula von der Leyen in September, who argued the EU must be able to independently intervene militarily without the assistance from US-led NATO.
According to figures from 2016, if the armies of European Union member states were put together, a standing army of over 1.4 million could be created.