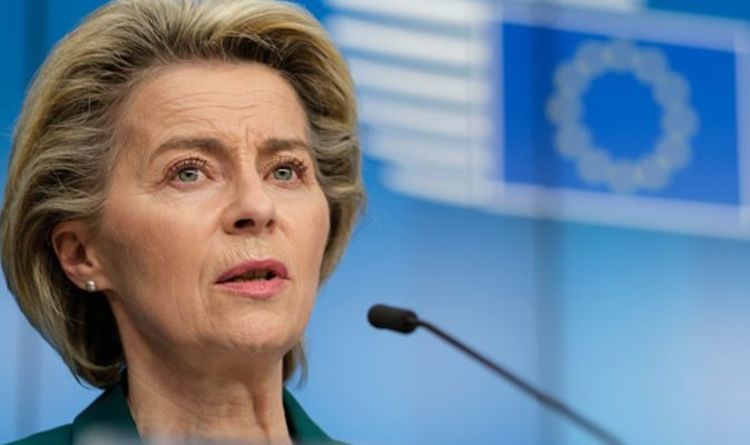 Bart van Horck, chair of CDA Midvoor, sister party to the CDU in Germany, claimed that without the EU anti-coronavirus vaccines "would not have been developed" as easily across the bloc. He added that travelling across the world was also only possible today thanks to Brussels' development of COVID-19 green passes.
He tweeted: "It is about time we realised: without the EU there would have been no joint vaccine procurement, MRNA vaccines would not have been so developed.
"Without the EU, there would be no COVID certificate that would allow us to travel between countries.
"Without the EU, this crisis would have been a lot tougher."
The comments, however, sparked the fury of Nexit campaigners who were prompt to debunk Mr van Horck's claims.
Nexit Denktank researchers blasted: "Whether you are for or against vaccines/QR codes:
"The British were much faster with vaccinations by buying everything themselves;
"Countries outside the EU also have vaccination cards.
"Always the same with EU propaganda: they list things that we can do ourselves without EU bureaucrats.
"Nexit!"
The bloc is currently dealing with a surging number of coronavirus cases due to the fast-spreading Omicron variant.
The Netherlands on Wednesday registered more than 24,000 new COVID-19 infections in 24 hours, a record high, official data showed.
READ MORE: 'Stop rewriting history!' SNP independence myth busted wide open
The surge in infections is following the Agency's worst-case scenario, published before Christmas, and Bjorkholm said new cases were expected to peak sometime in mid-January.
The daily infection figures are typically revised somewhat as any delayed records are added.
The previous record was 11,507 cases, registered on Decemebr 30.
A "supersonic" rise in French COVID-19 cases is set to continue in the coming days and there are no signs of the trend reversing, French government spokesman Gabriel Attal said on Wednesday.
He also said that infections were reaching "stratospheric levels" in the Ile-de-France region around Paris and some other parts of France and said that the situation in hospitals could worsen in coming weeks.
Attal also said that the government has decreed a health state of emergency in the French regions of Guadeloupe, Guyana, Mayotte, Saint-Martin and Saint-Barthélémy, where the infection rate is soaring.
At the end of the December, a health state of emergency was decreed in La Réunion and was extended in Martinique, where it has been in place since mid-July.
On Tuesday, France reported a record 271,686 new COVID-19 infections over 24 hours.